If you go to Galicia at the end of this February, please dress up. Put on any costume. May it be a wig, a painted face or eucalyptus branches tied to the neck. Anything that avoids the jokes, chases, flour throws and the obligation to pay for a drink that have those that do not go with the pertinent disguise. This is the genuine, vital and relevant Entroido, the Galician carnival.
We would have to speak in plural, as there are as many entroidos as there are villages and towns. And they all have something special. Perhaps because of the unique details that decorate the typical masks from each place. Or the own rites that differentiate the different carnivals. In the towns of Xinzo de Limia, Verín or Viana do Bolo (Ourense province), in Laza, in Riberia Sacra, in the area of Ulla (A Coruña province) and in many coastal towns of Rías Baixas, the streets and squares are filled with a unusual joy, crossed by mysterious and enigmatic aspects. What do these huge masks mean that it costs us so much to look away? Why do many participants wear such elaborate costumes? What do the different characters represent? And the dances, where do they come from?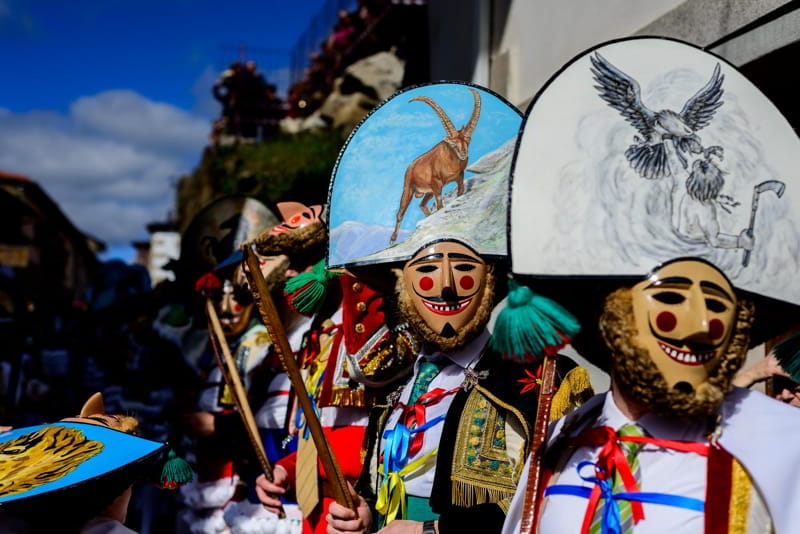 But despite the many questions we may ask ourselves, the overwhelming expressiveness of the festival drags us to joy. Wherever we are, we get surrounded by 'cigarróns', 'xenerais' or 'peliqueiros', the Entroido's characters that invite us to participate and enjoy. 
There's also another side: food, indeed. With all the richness and diversity offered by traditional Galician cuisine. From seafood dishes to the broths and stews, from delicious roasted meats to the fantastic sweets. And the wines!
We like to accompany Entroido with our Albariño Pazo Cilleiro. Full of personality, fresh, vivacious, festive and with a point of sensuality that goes perfectly in carnival time. Ideal with tapas, shellfish and fish, thanks to its good structure and sapidity it is also good with cured ham and works well with some cold meats and not very powerful meats. Try it with "lacón", a local ham: it's a surprise!
If any reader still does not know Pazo Cilleiro, a good occasion to discover it is the Barcelona Wine Week, the fair that takes place between February 3rd and 5th in this city. We are in hall 8, street C, stand 889.