One of our most hidden wines is especially charming and deserves to be known more. Although not too much: there is a limited number of bottles left. We are talking about Conde de los Andes Semidulce 2003, something more than a white wine. It is all a classic testimony of a type of product that had moments of glory and fans. Now this style with a long Riojan tradition is reborn by the hand of some current producers, who take as inspiration and reference a historical wine like ours. In other words, the Conde de los Andes Semi-sweet is something like the original pattern.
Throughout the 20th century, our Ollauri winery specialized in making part of its white grape as semi-sweet wine, to meet a local and international demand that required aperitif, after-dinner and evening wine. The soft and delicious personality of this product, with a very subtle sweet point and at the same time with a touch of balanced acidity and very well put, makes it a versatile wine suitable for many moments. We like to recommend it even to accompany certain dishes with sweet points, such as some pates, terrines, salads with sweet and sour dressing, blue and creamy cheeses, puff pastry appetizers … Of course, it is ideal with desserts and snacks.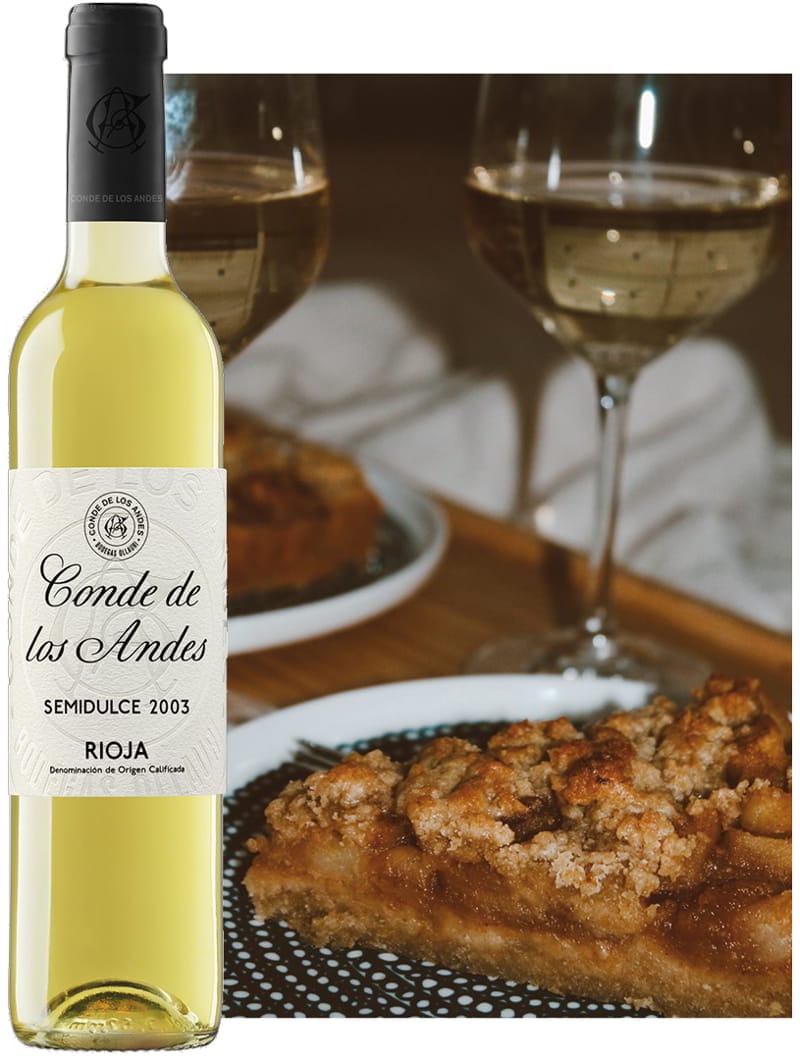 Its making is a key factor. After the grapes were harvested with an advanced degree of maturity, it was pressed and fermented like any white wine, but the fermentation process was deliberately stopped to maintain some of the natural sweetness of the grape. The wine matured for a year in oak barrels and has aged in the bottle for more than 15 years. The old vintage is, as indicated, that of 2003.
As for its tasting, we reproduce a fragment of the note published on the Vinos Clásicos blog, by the G-12 collective:
Good intensity, expressive, with a marked southern accent. Notes of mountain herbs, rock tea, scrub, white flowers, scent broom, acacia and a honeyed background point that are confused with grapefruit and citronella infusion stand out. Closer to a Mediterranean mistela than one would expect from a Riojan viura. Open, joyous, without excess complexity but totally delivered. Neat, leaving space little by little. It opens without difficulty to creamy notes from the barrel and a soft toast.
Surprisingly, on the palate it has a moderate sweetness, more in the usual line of the classic Rioja semi-sweet than a sweet wine itself; which contrasts with the large number of records previously perceived. Balanced, somewhat thick, tasty, wider than long, with a correct acidity and a sufficient finish.
––
You can get more information and –if you're in Spain– the possibility of purchasing Conde de los Andes Semidulce 2003 here.