Why is our main red grape variety so popular and popular all over the world? Tempranillo, responsible for the success of our Rioja wines, has a well-deserved fame. We wanted to gather here some of the most qualified opinions about our queen variety recently published by the most influential wine media.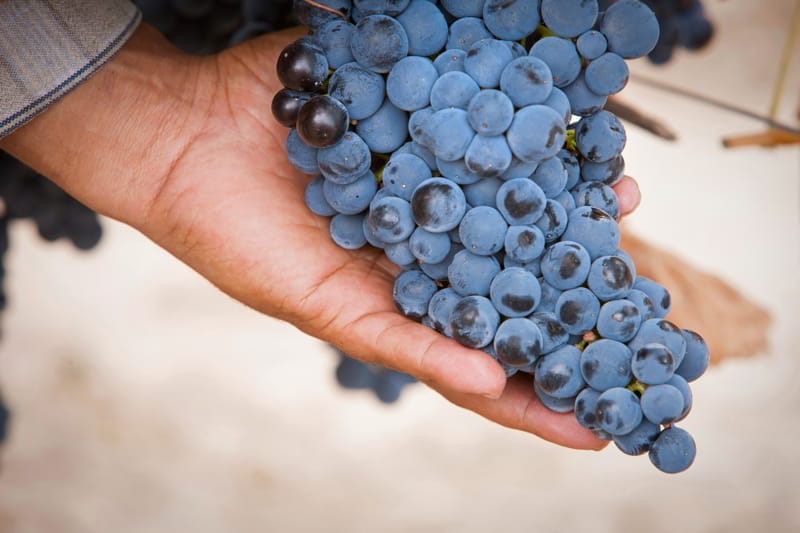 The flavour of Tempranillo is essentially savoury rather than sweet. The characteristic smell has hints of leather but the phrase I use most often to describe it is 'fresh tobacco leaves' – even though, as is so often the case with these useful 'trigger words', I am not at all sure I have ever actually smelt fresh tobacco leaves themselves. There is something sappy, fresh and vegetal about it, but also something definitively masculine, the sort of smells you would expect to find in a stereotypical gentleman's dressing room – which is, I suppose, where the leather comes in.
Tempranillo's skins are not especially thick, so the wine is not marked by particularly deep colour.
Tempranillo reigns supreme in Spain. It produces full-bodied and ageworthy wines throughout the country, most notably in Rioja. The grape originates in northern Spain's Rioja and Navarra region, dating at least to the 1500s. Centuries later, this grape continues to play an important role in the famous wines of Rioja.
Tempranillo appears nearly black in the vineyard. It prefers soils rich in chalk with good drainage and can be easily affected by vacillations in climate and weather. The grape's tendency to ripen earlier than others led to its name, which is a diminutive of temprano, the Spanish word for early.
The ruby-colored wines are, at their best, full of bright red and blue fruit, like plum, raspberry and tart cherry. Wines made with Tempranillo also take on secondary characteristics. Notes of tobacco, herbs and leather are also common. This grape has the potential to age for a long time and it is often blended with other grapes like Garnacha.
Spanish Tempranillo delivers contrasting flavors of leather and cherries. The finer the wine, the more balance there is between earth and fruit. The finish is typically smooth and lingers with the taste of tannin on both sides of your mouth. Tempranillo can be characterized as either a medium- to full-bodied, with red fruit characteristics.
Capable of making juicy young reds as well as serious, well-structured, fine, oak-aged reds with vanilla, tobacco spice and strawberry flavours, the mainstay of Rioja and a host of other Spanish reds, Tempranillo is a versatile grape which is equally well used to making juicy young strawberryish reds as well as more serious, oak-aged reds with a veneer of vanilla, liquorice and tobacco spice characters overlaying the strawberry flavours. Like Sangiovese, it can be very savoury, a quality often defined as tobacco leaf, and it becomes leathery with age.
Tempranillo grows in tight clusters of black, thick-skinned berries. It's early-budding and -ripening—"temprano" means "early" in Spanish—and generally likes warm days and cool nights. The grape is best-suited to calcareous and clay soils, as well as chalk and limestone.
Tempranillo's profile varies, depending mostly on winemaking techniques, but it does have hallmark characteristics. It makes medium- to full-bodied reds of moderate to high levels of tannins and acidity. It shows a mix of red and dark fruits, including cherry and plum, as well as earth and herbal notes; its acidity can sometimes be citrusy and orange peel–like. Oak aging is very common for Tempranillo, traditionally in American oak, but French oak is also used in modern styles. This will impart flavors like vanilla and cocoa powder.
I can't find a better way to explain Tempranillo's nature than to remark on its ability to express itself in so many ways. In contrast with strong personality grapes such as Cabernet Sauvignon or Merlot, this Spanish beauty seems to fit in many environments and fulfill a wide range of winemakers' requirements. The list includes the wide range of reds made in Rioja, namely those aged in barrels and capable of developing beautifully in your cellar.
Tempranillo can achieve remarkable balance if grown in suitable terroirs. Fruit aromas range from strawberries and cherries in Rioja to dark plums in Ribera, as well as spice notes, occasionally minty nuances, and leather and tobacco notes in aged wines.