APRIL 2021.— Indigenous varieties capture a uniquely Spanish character in a way that international varieties might not. 'Even with the diversity of style, there is always something that you can identify as Spain,' noted Matthew Forster, one of the judges of the recently held Decanter's Tasting Panel of Spanish White indigenous Varieties.
The judges (alongside Forster, Sarah Jane Evans MW and Beth Willard) agreed that the inherent diversity of indigenous Spanish whites is a key part of their appeal for wine lovers. 'We've gone across a whole range of wines, and the ones we liked were a complete mix of different styles, so everybody will find something to love,' concluded Evans.
It was one of Spain's better-known white styles that performed best across the board: White Rioja accounted for three Outstanding wines and 13 Highly Recommended. 'The Riojas were all benchmark, high-end offerings; sophisticated oak, quite classically styled,' said Forster.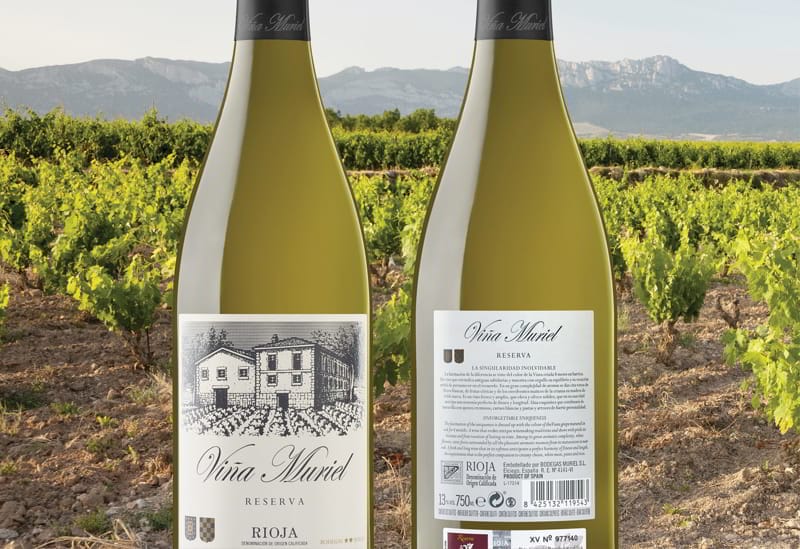 Viña Muriel Blanco Reserva: # 1
The top of these Rioja whites, and leading as well of the whole list of 149 wines tasted, was Viña Muriel Blanco Reserva 2013. It is our finest white made with selected Viura grapes harvested in El Gallo area, just outside the village of Elciego, where Bodegas Muriel stands.
Here is the comment published in Decanter about our Viña Muriel Blanco Reserva:
Made from Viura grapes grown in Elciego, Rioja Alavesa. The fruit undergoes fermentation for 20 days in French oak barrels followed by further maturation over eight months in the same vessels. The wine is finally aged a minimum of 18 months in the bottle before release. Sarah Jane Evans MW: Glorious limpid gold colour. The palate is complex, layered with creamy oak, crisp lemon acidity, fresh herbs, and a salty finish. A fine example of how white reserva can be. Matthew Forster MW: Lovely mid-gold colour. Vibrant acidity carries the finish. Overall elegant and complex. Beth Willard: Golden in colour, showing some age. Very ripe apricot and honeyed notes. Fleshy and sweet… a wine with a lot of freshness and a lemony finish, but attractive evolved notes. Great to drink now. Drinking Window 2021 – 2028.