APRIL 2021.— Japanese pot-au-feu is one of those popular yõshoku, or Japanese dishes born in the late 19th century, inspired by Western cuisines. It has dozens of variants. Among the most typical is nikujaga, considered one of the most traditional recipes in the country. A true "grandmother's recipe".
Nikujaga literally means "meat and potatoes". Those two ingredients are the basis of this dish, although meat is often substituted by seafood. Anyhow, the main ingredients are cooked in broth together with vegetables (onion, carrot) and sometimes mushrooms. Daikon, the typical pickled radish, is often added, delivering a nice contrast with its touch of acidity. The nikujaga is seasoned with sake, soy sauce, and mirin. It is a comforting and healthy winter recipe. Equivalent to our Spanish nutritious stews, "cocidos" and "potajes".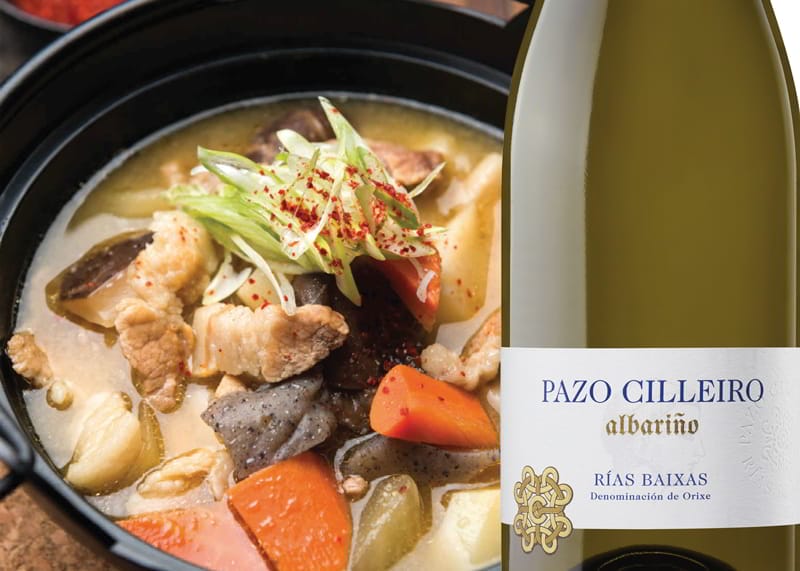 If we are talking here about Japanese"pot-au-feu" it is for a reason: the jury of Japan's Sakura Wine Awards has decided that the best wine for this type of dish is our Pazo Cilleiro Albariño. It has been chosen out from more than 4,500 wines from around the world.
What are the Sakura Awards?
The Sakura Awards are the most prestigious wine competition in Japan and one of the most important in Asia. It has a completely feminine dimension. The reason is simple: in Japan, it is women who usually buy wine. Thus, these awards have a jury made up exclusively of women. Among them, there are prominent sommeliers, journalists, critics, importers and other professionals in the wine sector.
4,562 wines from 32 countries have been presented to the 2021 edition. 275 Double Gold medals have been awarded and only 58 Diamond Trophy, the highest award.
The triumph of Pazo Cilleiro
One of those Diamond Trophy has been for Pazo Cilleiro 2020. The jury has considered the excellent quality of our Albariño D.O. Rías Baixas. A recognition that places Pazo Cilleiro at the top  of the Japanese market.
That's not all. The Sakura Awards jury has also chosen a total of 18 special awards: the Grand Prix. These are prizes linked to a specific value, be it business-related or gastronomic. As we said, in the category of Grand Prix for Best Pairing with Japanese Pot-au-feu, the winner is Pazo Cilleiro Albariño 2020.
From now on, when ordering one of those delicious and traditional dishes, its pairing will be clear: Pazo Cilleiro Albariño!