APRIL 2021.— We'd like to take you to the highest vine of the Saigoba valley. The loneliest and wildest one. It is on the edge of the mountain, a few meters from the holm oaks and the large steppe rockrose bushes. On the hillside you can see narrow paths, barely a foot wide: these are the paths that use roe deers and hares, foxes and wild boars in their nocturnal forays.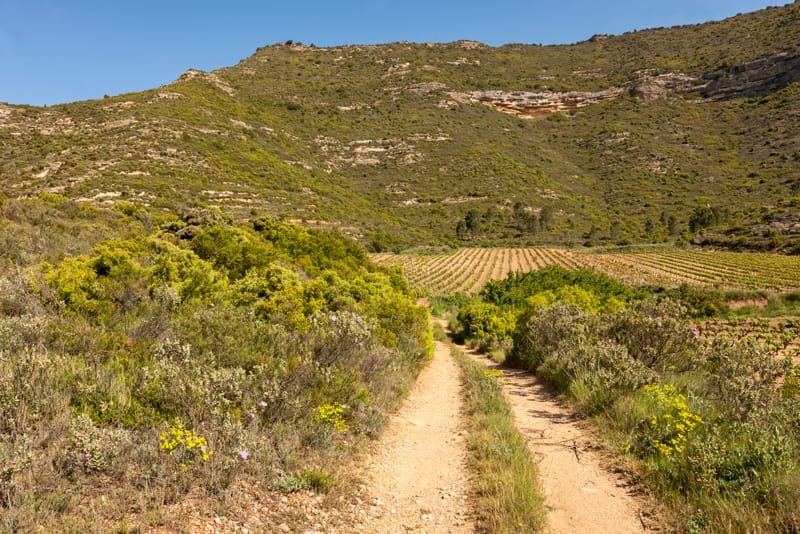 This vine at the end of the vineyard is of the Viura variety and was planted almost 40 years ago. There is no white variety more typical of Rioja than Viura. As we published a few years ago on Muriel Wines blog, "Viura is a resistant and high yield grape, with an extraordinary ability to adapt to different types of soils and climatic conditions. In the clay-calcareous slopes of Rioja Alavesa and Rioja Alta it is well attuned. It excels in aged wines. Its strength, combined with a vibrant acidity, is key to aging. Our ancestors knew it very well and that's why this variety has been used since ancient times to produce the great Rioja white wines, one of the hallmarks of the denomination."
For Decanter magazine tasting panel, which at the beginning of April 2021 tasted wines of almost all the indigenous Spanish white varieties, Viura has "a complex character, more widely spread across the country's different terroirs and often oak-aged. It's much harder to nail Viura at a tasting than the straightforwardly fruity Verdejos."
Seventh best wine in the Decanter tasting
At the aforementioned tasting, the tasters (Sarah Jane Evans MW, Matthew Forster MW and Beth Willard) evaluated 149 white wines in total. At number one, with 96 points, they chose Viña Muriel Blanco Reserva 2013, the Viura reserva wine that we make at Bodegas Muriel, in Elciego.
At number 7 on this complete list, with 95 Decanter points, is Conde de los Andes Blanco 2016. It is precisely the wine that comes from that Viura vine in the highest and most extreme part of the Briñas vineyards. And this origin is very present in the style of the wine. As Beth Willard says, the aromas of Conde de los Andes Blanco "speaks of place."
Here the full text published in Decanter about our Conde de los Andes:
"Bodegas Ollauri is located in the heart of Rioja Alta. The Viura grapes are selected carefully from different vineyards in Briñas (Rioja Alta) and Labastida (Rioja Alavesa), where the vines are approximately 30 years old. The wine is fermented for three months on its lees in French oak, where it then matured for another six months. Sarah Jane Evans MW: Despite the four years of age it tastes young, with good freshness, but a flattening effect from the oak. Roasted notes show through. Classical white Rioja. Matthew Forster MW: Developing; straw and hay aromas; broad yellow apple fruit. Very fine, layered palate and building finish. Beth Willard: From the first aromas, this wine speaks of place. While it's French oak, and quite balanced and refined, the wine is distinctly Riojan with truffley, spicy notes and fresh lemony green apple on the palate. Great volume and a long, savoury finish. Drinking Window 2021 – 2028."